KC3D LLC
Regular price
Sale price
$46.99
Unit price
per
Sale
Sold out
For installation instructions, click here.
If you use Ryobi One+ power tools you already have the perfect battery to power your Sullivan Dynatron starter. The One+ batteries are 5s2p LiIon batteries with built in protection circuits for overcurrent and overdischarge. The Dynatron will turn over a 1.20 nitro engine with ease on the 18V nominal Ryobi batteries.


This 3D printed adapter mounts to the Dynatron motor and provides an easy way to use your One+ batteries for a convenient starter setup. It balances well in the hand and doesn't add a ton of bulk to your starter (depending on the battery size you use). Comes fully assembled and pre-wired. Wago 221-412 wire splicing terminals make it easy to connect your Dynatron's input leads to the adapter and get flying with no soldering required.


The adapter pieces also have holes into which you can put the disassembled Sullivan wand, to save on travel space.  Other wands between 7-8mm in diameter will fit, though not all will reach into the rear retainer.
This product includes:
1 x 3D Printed Sullivan Dynatron Ryobi One+ Mount Set (Black ABS Plastic)
1 x Wiring Harness (Pre-Installed)
This product has a limited lifetime warranty.  If the 3D printed pieces break due to impact damage, let us know and we'll get a new one sent out to you.  The warranty does not cover melted or damaged wiring or terminal due to extended periods of too high amp draw (e.g. stalling the starter motor for too long). 
One+ Battery, Charger, and Dynatron not included.
Shipping Disclaimer:
In an effort to reduce waste of shipping supplies, if you order only a Dynatron adapter, it will ship in the single box that it is packaged in instead of being double boxed like they've historically been.  Any additional small items ordered, if they can fit into the adapter box that is how it will ship.  This is in an effort to reduce end user costs, as shipping supplies are not free and the costs are always passed down to the customer. 

Share
View full details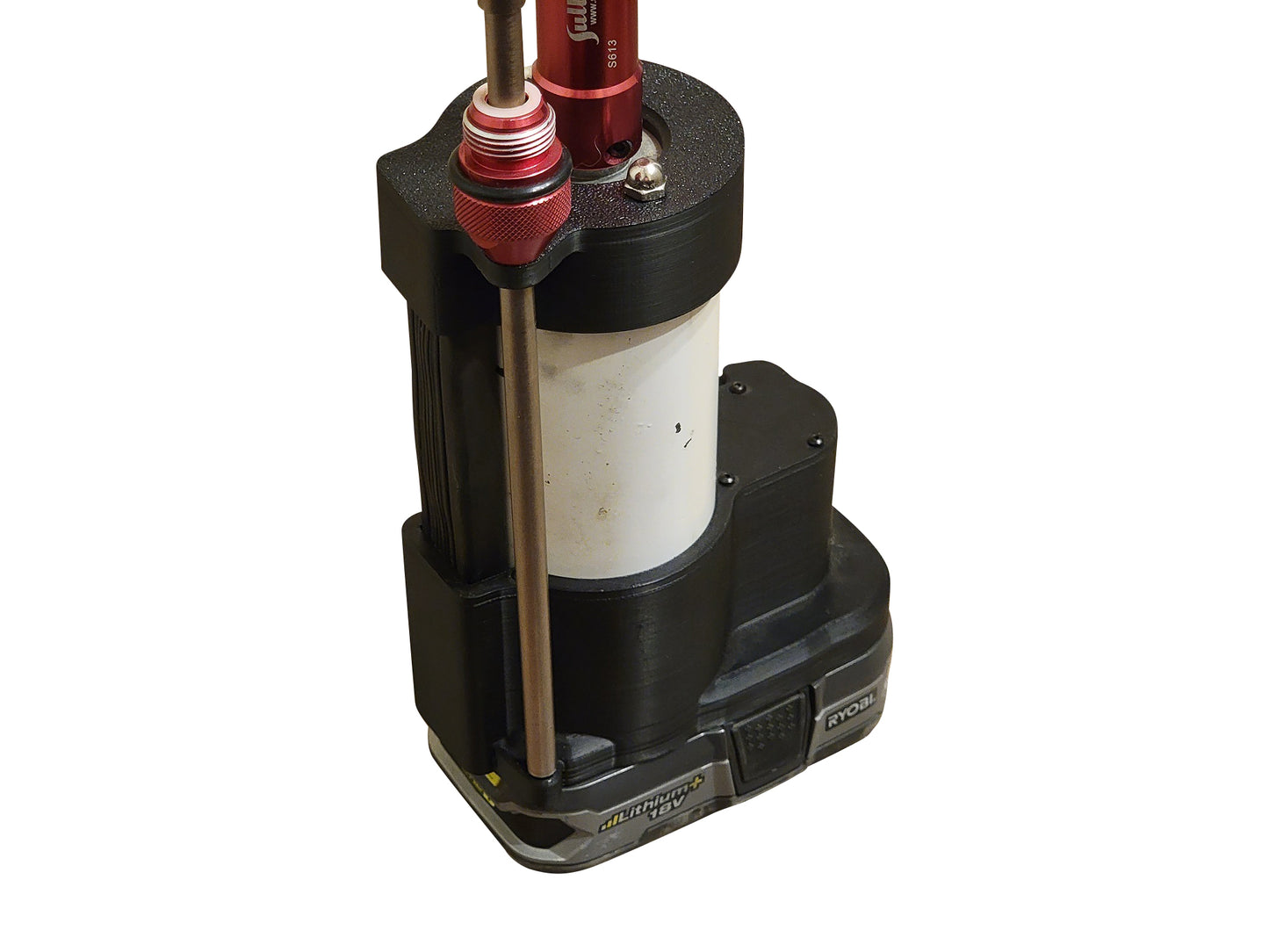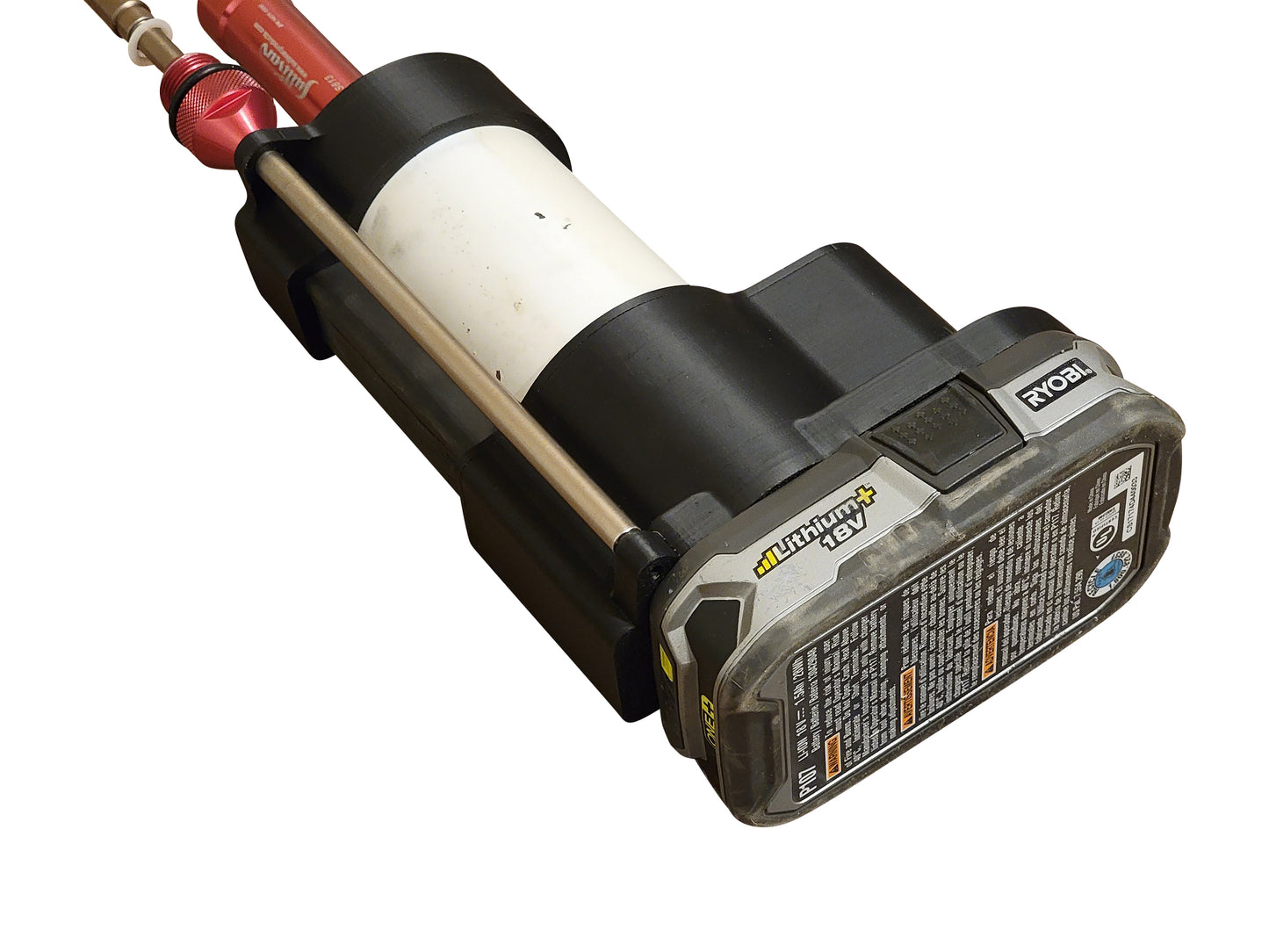 Starter
Excellent product. Assembly was easy. Works very well. Very convenient to use the batteries I had.
Works great
The fit and finish was great on the Ryobi battery kit for my dynatron. Very easy to install and use. Makes it very convenient now. Thanks!
Very worthwhile upgrade.
Nice design, fits the starter perfectly. Makes a big improvement to the starter. Also appreciated the prompt shipping.
The perfect starter!
This thing is genius and the quality is great! Thanks Keith!
Works great! Super Convenient.
I bought the Ryobi adaptor once it became available and it works flawlessly with the starter. The battery clicks in securely and the weight balance makes it comfortable to hold. Connecting the wires was very easy with the tutorial and overall install took less than 10 minutes. Durability and print quality has no issues. Highly recommend it if you want a clean and simple battery adaptor for your starter.