KC3D LLC
Regular price
Sale price
$1,299.99
Unit price
per
Sale
Sold out
Are you ready for this compact beast of a charge case?  Measuring just over 14"/36cm lengthwise and only about 5"/13cm thick when closed, and outputting a maximum of 2kW of charging power, the Ultra Beast charge case will keep your packs charged up while taking up minimal travel and workbench space, being only a little bigger than our popular Nanuk 909-based Mini Beast charge case.

Features:
-Nanuk 910 Case, Extremely Rugged and Locks Tightly.  
-Two ISDT P20 1000W Dual Channel Chargers, totaling up to 2000W (4 x 6s @ 20A) of charging capability.*  ISDT chargers shipped with our cases are always updated to the latest firmware prior to case assembly and shipment.  Any future updates to the firmware must be applied by the user and will involve disassembly of the charge case.
-Mean Well RSP 2000W 24V Power Supply for Reliable, Clean Power.  The power supply is tuned up to a slightly higher voltage than default, usually 26-28V, to provide a slightly higher efficiency when charging 6s LiPos.
-High Airflow Ball Bearing 24V Fans for Reliable Cooling.
-Two-Piece ABS 3D Printed Deck that will hold up to the summer heat. 
-XT60 Outputs for Simplified Charging (no more unreliable and wear prone banana plugs)
-XT60 Auxiliary Output.**  
-Dual USB QC3.0 Outputs*** for charging your phone or other USB device at the field.
Note:
This case is fairly loud.  It's a byproduct of our cases being designed to be as power dense as possible, bar none.  There is a ton of heat being generated inside this case and it has to be sent out as fast as possible.  The Mean Well PSU cranks out the noise when under load, in addition to the intake fans and charger's own fans.  This is probably not something you'll want to be right next to while charging.  
This product includes:
1 x Fully Assembled Charge Case
1 x Right Angle IEC Input Cable 

*Due to input current limitations on the ISDT P20 chargers, you will not be able to quite reach the full 20A on both channels of one charger at the same time.  In addition, if you're in the USA, the Mean Well power supply is limited to about 1600W when running off of a 120VAC outlet.  This limitation means you will be limited to around 16-17A per channel (on 6s LiPo) when using all four channels.  To get the full 1900-2000W the case is capable of, you must power it from a 240VAC outlet.
**Auxiliary power pulls from the main power supply, so be sure not to exceed the maximum rating when charging with the case and powering an external load.  The auxiliary output will output the same voltage as the power supply, usually 26-28V.
***May be substituted for dual QC3.0 + USB C PD at our discretion depending on availability.
Be aware that because every case is made to order and often customized in several ways, the photos may not perfectly reflect what you get, including not only colors but USB module versions, different inlet styles, and different availability of various components.  
Color customizations are available.  If you do not provide any customization requests either by email or order notes, the assumed configuration will be "Blackout", with a black case, black bezel, black deck, black fan grill, etc.  All of these colors can be customized, however.  Available colors for the case depends on availability from our suppliers, contact us for info on availability.  Available colors for printed parts are as follows:

Black
Graphite
Light Gray
White
Red
Orange
Yellow
Green
Lime Green
Blue
Purple
Hot Pink

You can also choose to exclude the USB output module, or choose a different style (must be 30mm diameter) if you find one you like better.  On cases that have it, you can also choose to exclude the auxiliary power output. 
We do not keep stock of cases nor components.  Due to the low order volume of charge cases, each case is built individually to order.  This allows easy customization requests and changes to the case design.  Due to the MTO nature of charge cases, there can be up to a 1 month lead time before shipping after you place your order, especially with more complex customizations like component substitutions.  There is a $200 order cancellation fee if you decide you do not want the case after your order is placed.  NO EXCEPTIONS.
Share
View full details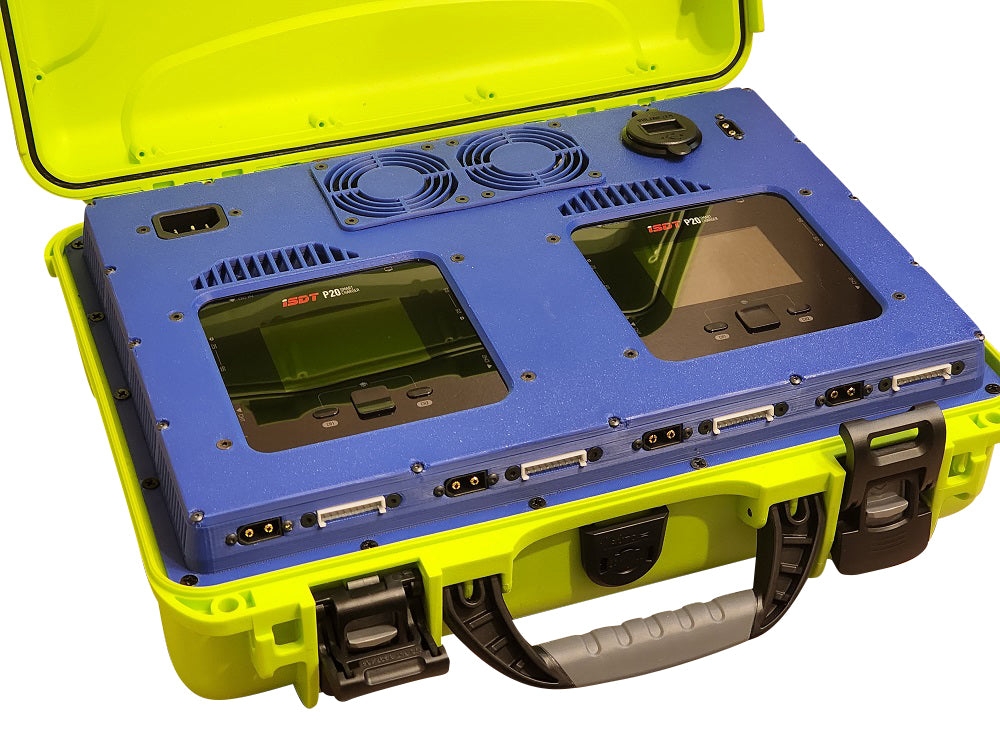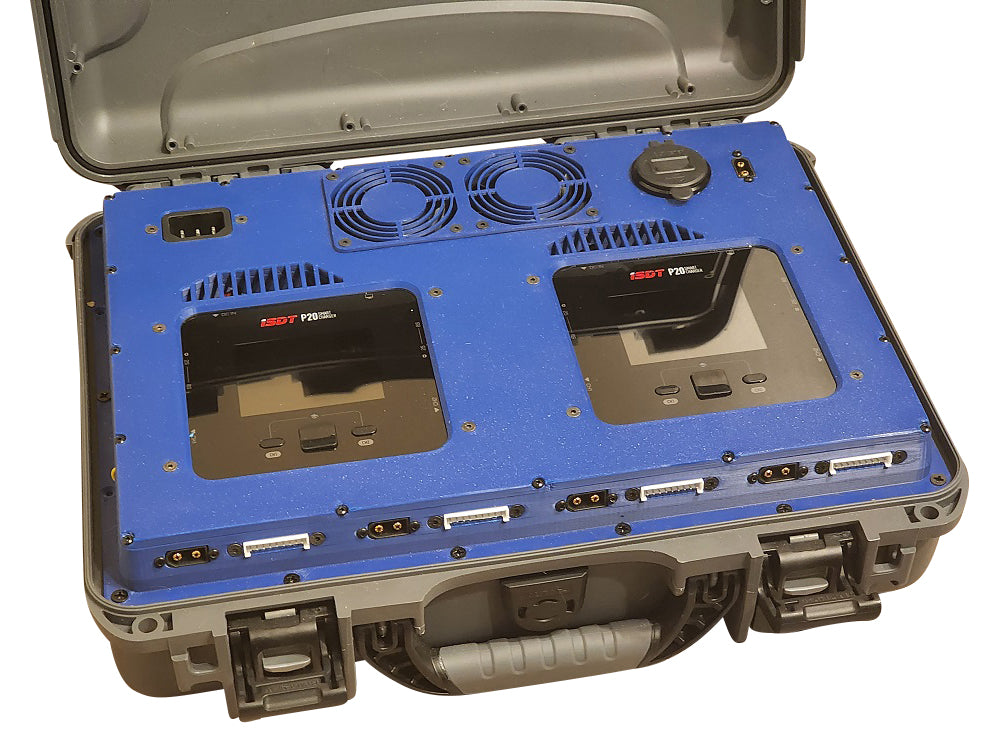 So much power so little case
This case configuration is by far the best I have ever had. Most charge cases on the market you have to sacrifice on thing or the other. With this case it has the power to charge multiple batteries without being in a huge bulky and heavy case. The total weight for this is 10.87lbs. I tried to weigh my old case for comparison but the scale said eRR lol. The quality and craftsmanship that goes into this case is top notch ⭐️⭐️⭐️⭐️⭐️